CLASSIFICATION OF RETINOPATHY OF PREMATURITY
The International Classification of Retinopathy of Prematurity grades severity of the disease by stages (0-5), location of the disease into zones (1-3) and extent of the disease based on the clock hours (1-12) .
Stages
Stage 0 - mildest form of ROP, with immature retinal vasculature and no clear demarcation of vascularized and nonvascularized retina
Stage 1 - fine, thin demarcation line with no height and thickness appears between the vascular and avascular retina.
Stage 2 - the white line widens into a broad, thick ridge clearly separating the vascular and avascular retina.
Stage 3 - neovascularisation grows into the vitreous on the ridge, on the posterior surface of the ridge or anteriorly toward the vitreous cavity and the ridge has a velvety appearance with a ragged border.
Stage 4 – sub-total retinal detachment beginning at the ridge where the retina got pulled anteriorly into the vitreous by the fibrovascular ridge
Stage 4A - partial retinal detachment not involving the fovea.
Stage 4B - partial retinal detachment involving the fovea.
Stage 5 - total retinal detachment in the shape of a funnel.
Stage 5A - open funnel.
Stage 5B - closed funnel.
Plus disease
"Plus disease" is an indication of activity and is characterised by the appearance of dilatation and tortuosity of the retinal vessels, iris vascular engorgment, pupillary rigidity, and vitreous haze.
Zones
The retinal blood vessels grow out from the optic disk, and the designation by zones corresponds to this vascular development pattern as shown in the diagram below.
18
Retinopathy of Prematurity
Zone 1 – extends from the optic disc to a point double the distance from the disc to the fovea, a radius of 30°.
Zone 2 is a circle surrounding the zone 1 circle with the nasal ora serrata as its nasal border.
Zone 3 - the residual crescent anterior to zone 2
The extent of ROP is recorded as clock hours in each eye according to the relevant zone.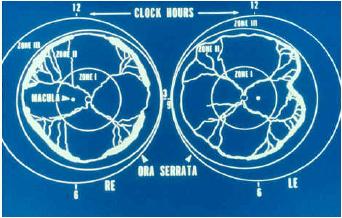 Regressed ROP
Regressed ROP may result in vitreoretinal sequelae producing vascular and retinal changes in the peripheral retina.
Source:CPG Retinopathy of Prematurity Dec 2005 MOH Malaysia